Regular price
Sale price
Rs. 520.00
Unit price
per
Sale
Sold out
Hazelnuts are a rich source of antioxidants, vitamins and proteins and we bring them to you in an exciting form to consume them better.
View full details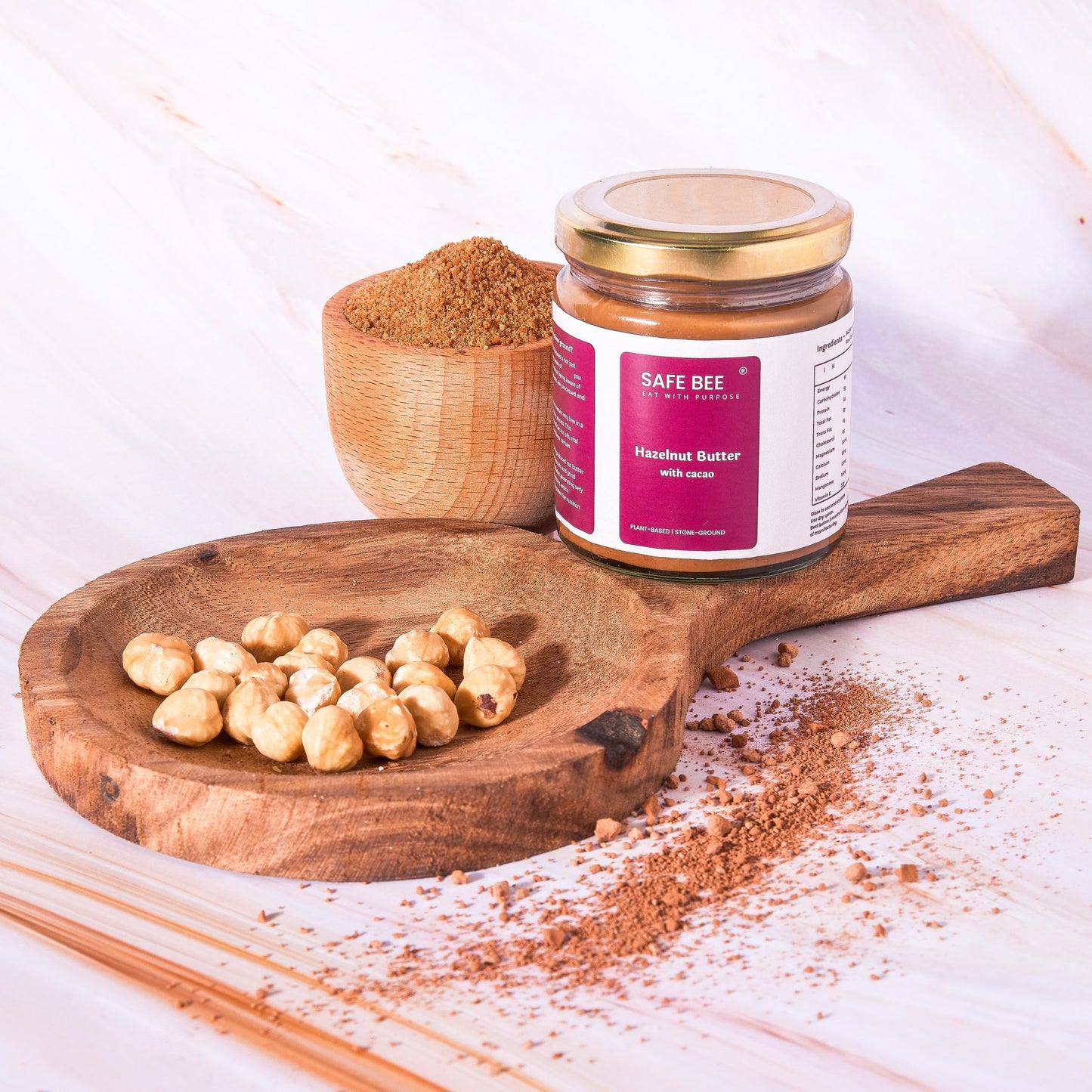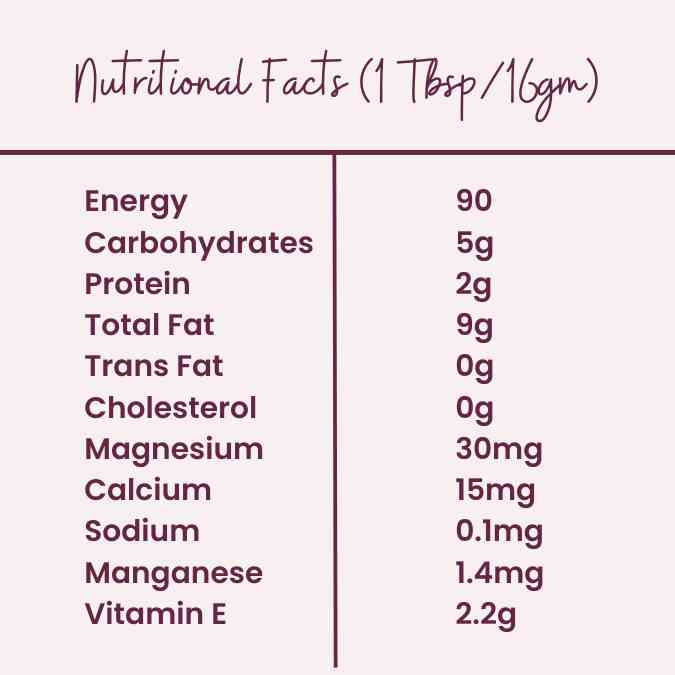 When it comes to our products, we go the extra mile to add more nutrition and taste to our products and our Cacao Hazelnut Butter is no exception. This butter perfectly blends the richness of hazelnuts with the goodness of cacao and is enriched with the sweetness of coconut sugar. Cacao is rich in Magnesium, a nutrient that is vital to our bodies yet consumed very little daily. Cacao nibs and coconut sugar sourced from Pollachi are added to hazelnuts that are stone ground for 4 hours to bring you this delectable butter.
What's inside!
Hazelnuts 84.5%

SB Coconut sugar 10%

Cacao Powder 5%

Pink Salt 0.5%
What's the purpose of hazelnut butter?

Hazelnut butter is a rich source of omega-3,6,9 fatty acids = has numerous heart-healthy benefits!

Rich in Vit E = helps protect cells against cellular damage and improves immunity.

Great source of Magnesium = supports healthy muscle function, protein synthesis & energy production.

Key source of Manganese = essential mineral required for bone development, calcium absorption, healthy cartilage, healthy skin & blood sugar regulation.

Why stone ground?

Eating With Purpose is not just about being aware of what you eat, it's also about being aware of how ingredients are processed and consumed.
Temperatures remain very low in a stone-grinding process. This ensures that all the nut oils, vital nutrients and flavor remain intact.
Commercially produced nut butter machines chop nuts and grind them using blades generating very high temperatures, which eventually degrades the nutrition quality.
Frequentlt Asked Questions
Why is there oil separation on the top?

Commercial nut butters have emulsifiers and stabilising agents that make them a homogeneous mixture. Since we do not use either, oil separation is a natural thing that happens. Mix it well before use
How do I store it?

Our Hazelnut Butter has a shelf life of 3 months. Refrigeration is not required. Store it in a cool, dry place. Since we do not use preservatives, always use a dry and clean spoon to avoid any fungus formation.
Why is the hazelnut flavour too strong?

Popular commercial hazelnut butter uses only a small percentage of hazelnuts. We use 84.5 hazelnuts in our butter. Cacao nibs and coconut sugar make up the rest of the 15%. This is why the flavour of hazelnuts comes across strong in our butter. But adding more sweeteners will only reduce its nutritional value. Enjoy the nutty flavour by adding small quantities of our butter to your smoothies, salad dressings, pancakes, toast and more.